Filling a vacant SLP position is hard.
Your students need the required speech therapy services, but there are no direct hires available, and you need someone…now.
You shouldn't have to settle for:
Poorly vetted SLPs that don't fit seamlessly into your team.
A non-compliance lapse in speech therapy services.
Frequent SLP substitutions.
Complaints from parents and staff.
A large, impersonal staffing agency that's difficult to work with.
You deserve the support of an agency you can trust.
Next Level Speech Therapy is different because we:
We only staff SLPs.
We know the regulations and are experts in the field of Speech Therapy, so we know exactly how to support you.
We offer flexible contracts.
No contract is too small, and there are never any hidden fees. Whether you need an SLP full or part-time, long or short term – we're here to help.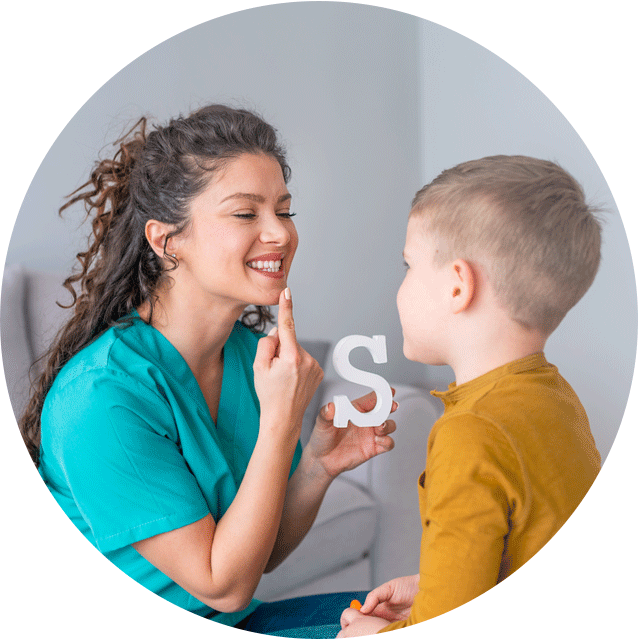 We are fully based in the US.
Many education staffing agencies aren't. We know you need quick response times and flexibility to schedule changes.
We provide in-person or teletherapy services.
It doesn't matter which state you're in. Our licensed and register SLPs are ready to seamlessly integrate with your staff.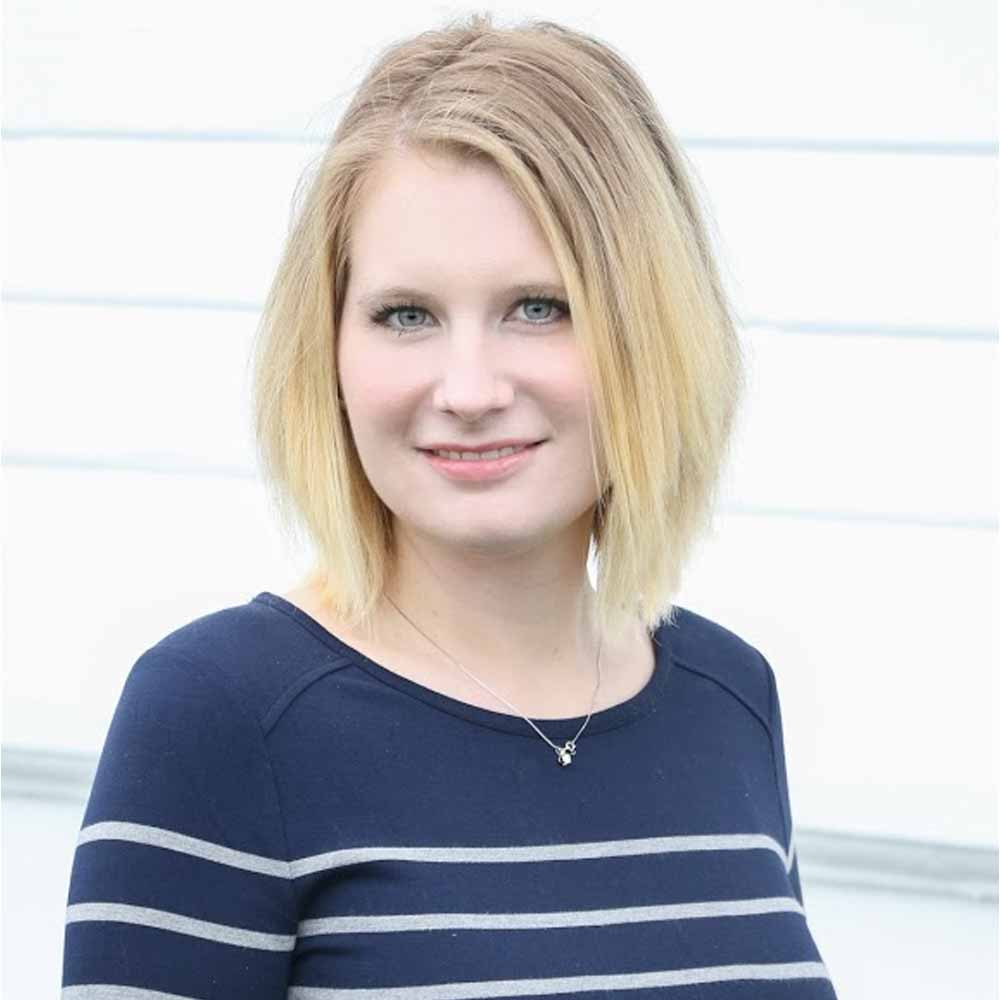 Hi, I'm Dayna, founder of Next Level Speech Therapy.
I'm an SLP too.
My team and I have spent many years in education — serving students in both in-person and teletherapy settings. We know what it takes to build a professional service that moves students toward their goals.
That's why we've developed a simple way for special education administrators to get the exceptional, licensed, and fully-vetted SLP that's the perfect fit for their needs. We'd love to help you too.
Here's how we make SLP staffing simple:
Request an SLP
You'll fill out a quick form and schedule a call so we can learn about what you're looking for, and gather our best suited available SLPs right away.
Meet the Candidates
You'll meet the best matches and know you're making the decision that feels right for your program's needs and goals
Begin Services
Students receive exceptional, compliant speech therapy services. You'll have an SLP you can count on, plus the support of an agency who's invested in your success.
More than a person – a partnership.
Our clients get more than a warm body to fill their spot. They get genuine support to make their program successful, and that makes all the difference.

My first stop to find SLPs that I can trust
Our district has been partnering with Next Level Speech for one year. In that time we have required several additional Speech Language Pathologists to fill long term and last minute leaves of staff. Next Level is able to recruit and hire high quality, well trained SLP's that are able to immediately and successfully integrate into our district with no issues. Their SLP's quickly establish positive rapport with staff, parents and students and implement services with little to no delay. Next Level Speech is my first stop to find SLPs that I can trust.
Joan Lawson,
Special Education Director,
Issaquah School District, WA

From predicament to fortunate 
We were in a predicament because there were no SLPs to hire as a district employee due to the pandemic. We hadn't used Next Level Speech before, but decided to try it out as Dayna (owner and SLP) was previously an SLP intern with our district. We have been so pleased with Dayna and her SLPs. They are professional, responsive, and skilled. We have been so fortunate to have them this year!
Charlotte Richardson,
Special Education Program Manager,
Edmonds School District, WA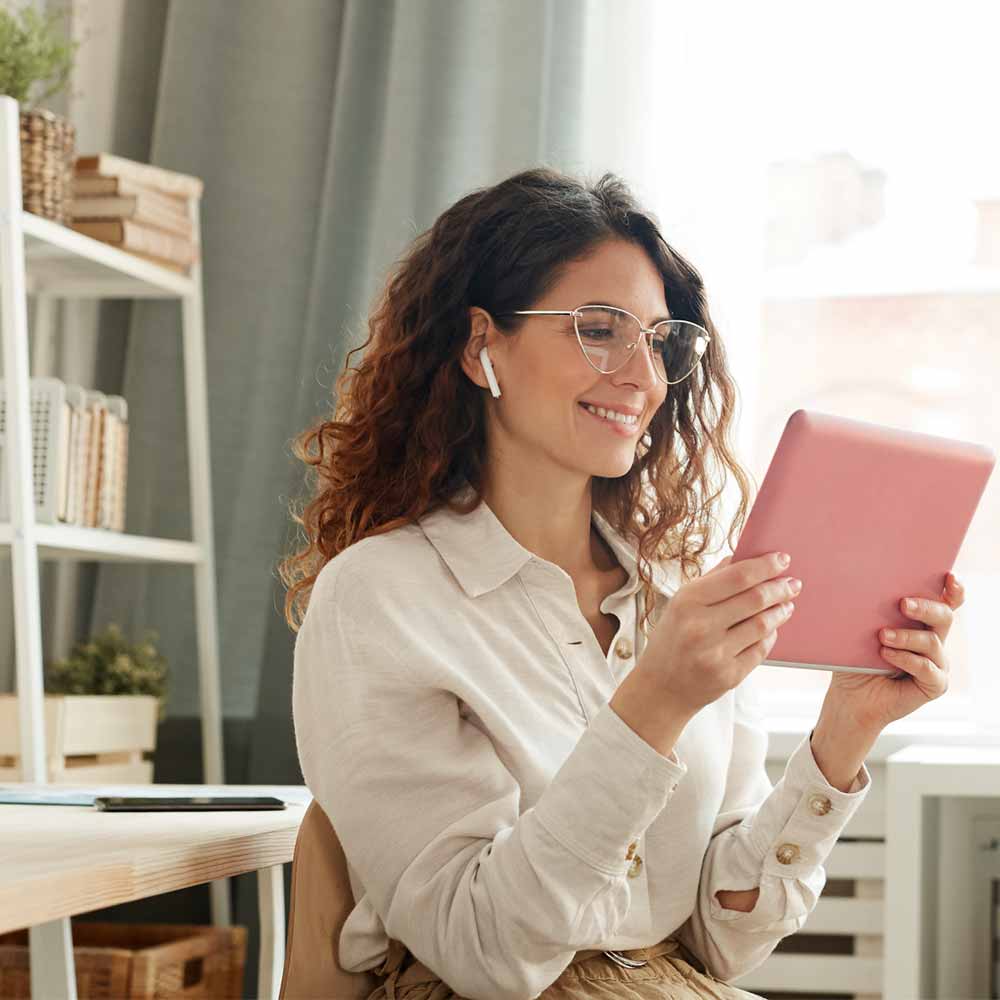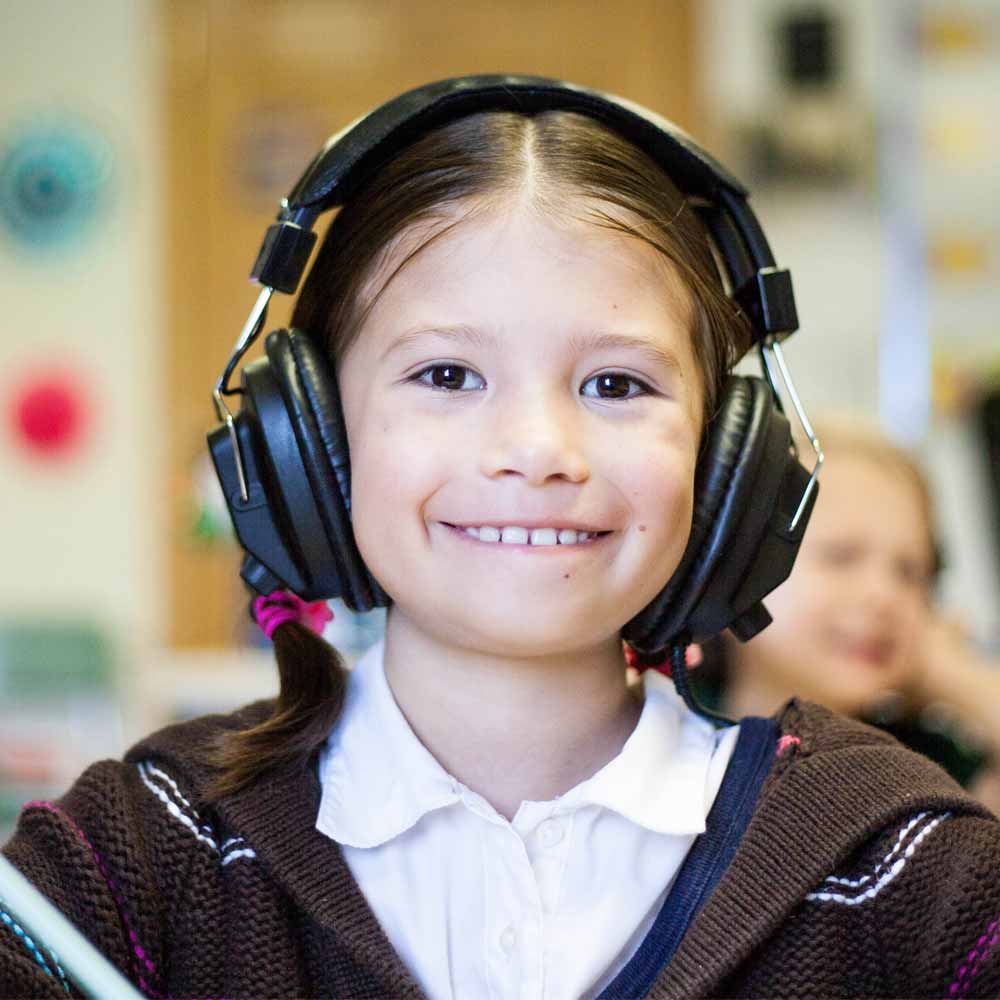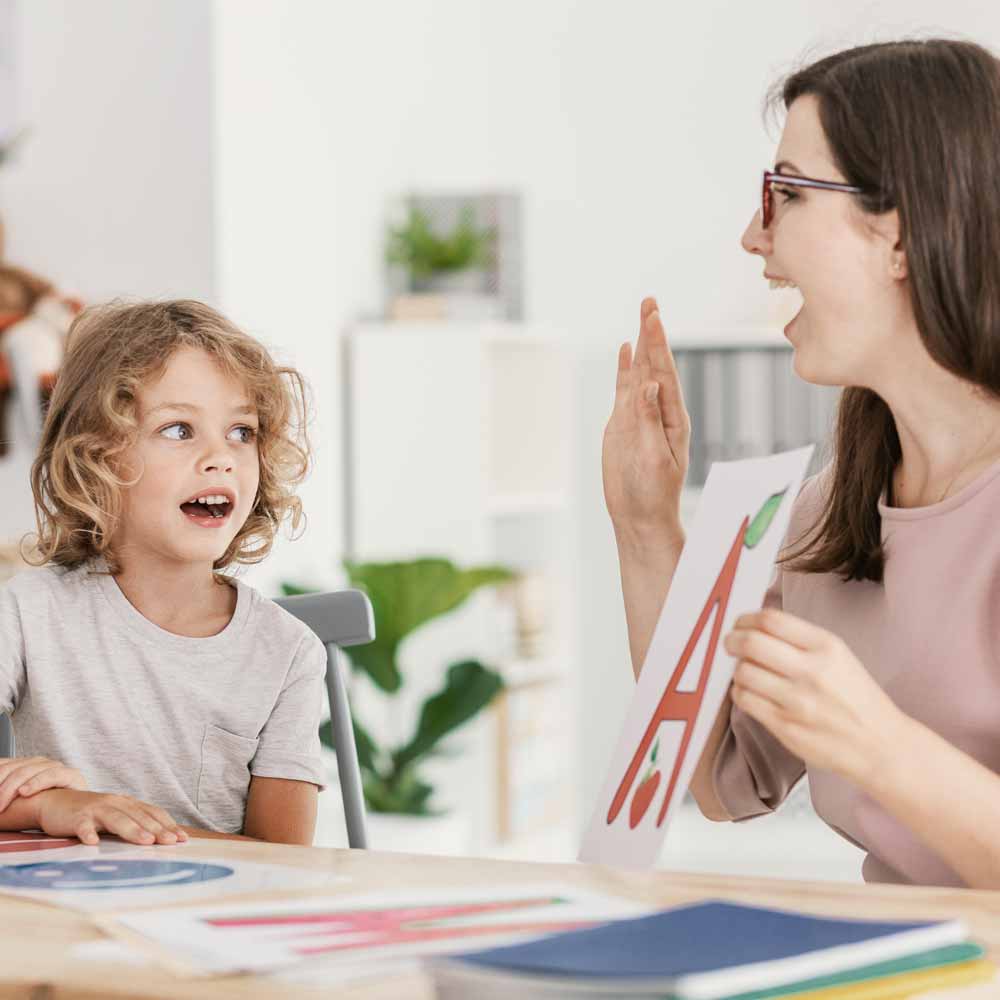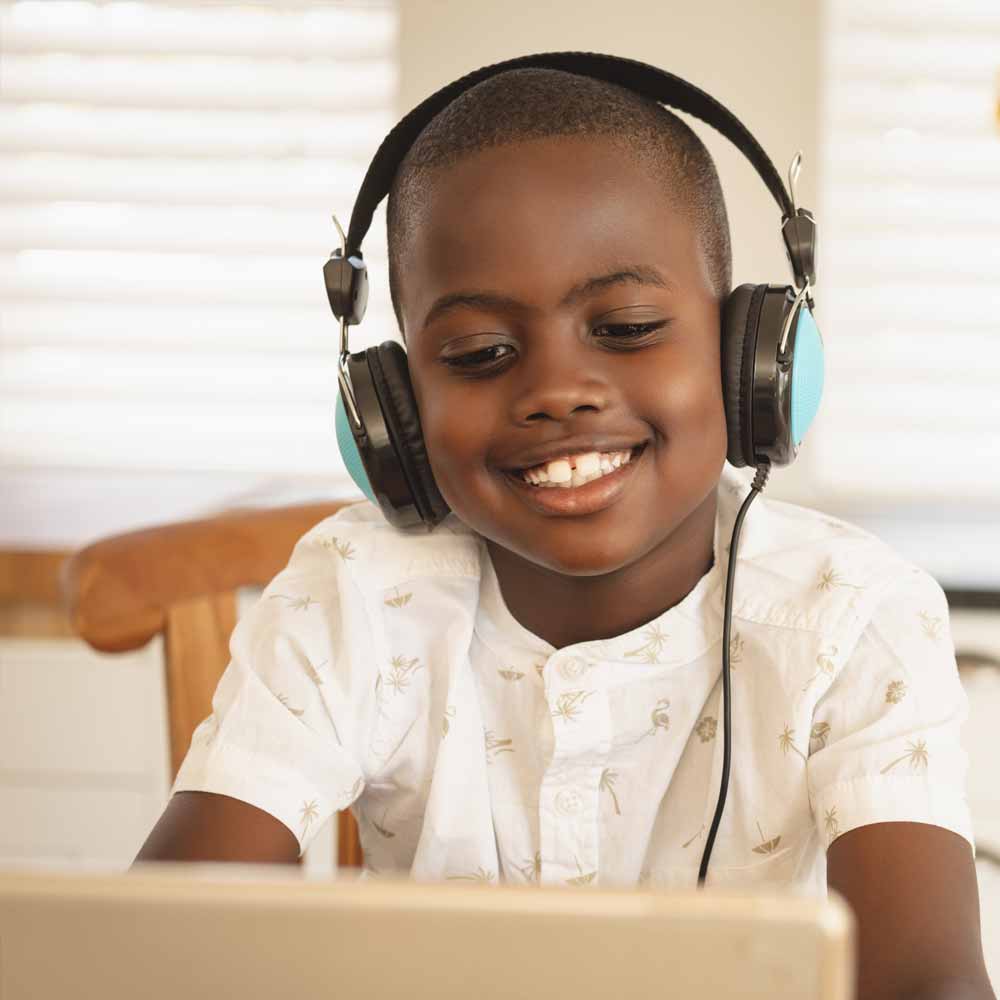 Your next SLP is out there.
We'd love to introduce you.
If you've never considered using a staffing agency to fill your SLP position (or you've had a not-so-great experience) we'll fill you in on what an exceptional experience looks like.
Our SLPs are our full-time employees. They work in your program as a contractor, which means your school expends less resources. We pay our employees and provide their benefits,not you.
Our SLPs are able to adapt to your school's systems and culture, and we only staff SLPs who can self-manage and take initiative.
They have our support if they need help, and so do you. Our SLPs are paid well, treated well, and happy. Happy SLPs are the best SLPs.
Questions?
We're here for you.
"We've never done teletherapy. WIll it work for our school?"
"What do I get when I work with NLST?"
Glad you asked. You get a partner that fills or recruits for your open SLP position at the time you need it most. We handle all the HR/administrative work, as well as the daily tools for the SLP to excel at their job (ex. student progress tracking). You can stop stressing about your open position, and get back to the parts of the job you love
"Do you staff for maternity/medical leave?"
Absolutely. No term length is too short. In addition to medical and maternity leave, other common staffing needs include district growth and retirement. We're here for you no matter your needs.
"Do you have SLPs available that are licensed in my state?"
Yes, we service all 50 states.
"Is partnering with NLST in our budget?"
Yes, we work with both rural and urban school districts with varied budgets. Billing is a simple hourly rate for speech therapy services. We strive for a long-term partnership and to keep our rates budget friendly for all districts.
"How do I know if I will get an in-person or teletherapy SLP?"
We know you likely have a preference for in-person SLP's and we'll will do our best to staff one for you. It's often faster to get a teletherapist SLP because they can work from anywhere in the U.S.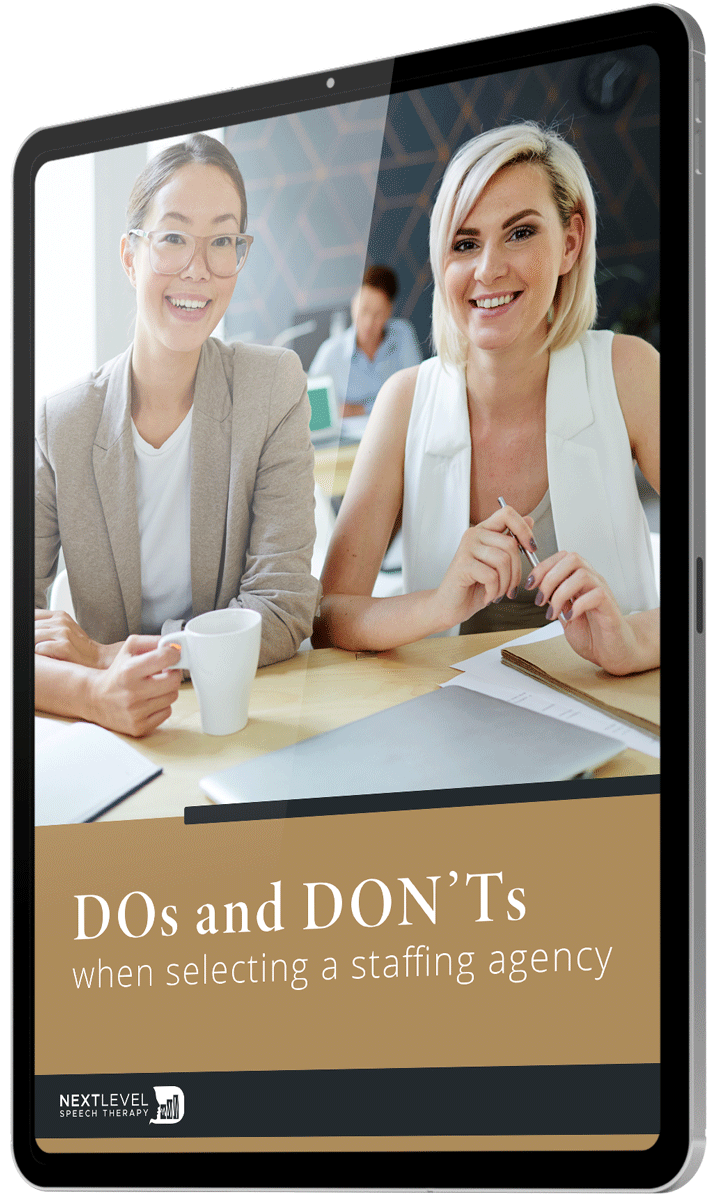 Need an SLP now? Don't panic! Download:
Top 7 questions to ask a staffing agency before you hire.
These insider questions will save you from:
Getting stuck in a contract that's not right for your program
Extra fees that blow your budget
Risk non-compliance because of a lapse in services
"*" indicates required fields