Students need speech therapy services and we find the right SLP to provide them. When direct hires are hard to find, you have options with Next Level Speech Therapy.
We've created a solution that's unique, and here's why it works. We:
Only staff SLPs
Offer in-person and teletherapy options
Are based in the US
Do not have any hidden fees
Do not have a minimum hour requirement
Have SLPs licensed to work in all states
Our SLPs are our full-time employees, which means less resources for your school. We take care of health insurance, sick days, and all other HR support. Our SLPs are able to adapt to your school's software and culture, and we only source SLPs who can self-manage and take initiative. They have our support if they need help, and so do you. Our SLPs are paid well, treated well, and happy. Happy SLPs are the best SLPs.
Let us help you find your SLP. The process is simple:
1. Request an SLP
Simply complete our form to explain what you're looking for and we'll gather our available qualified SLPs.
2. Meet the candidates
You'll meet our top matches for your program and know you're making the best decision for your needs and goals.
3. Begin services
With your new SLP, your students will receive exceptional and compliant speech therapy to help them reach their goals, and you'll have someone you can count on. Plus, you'll have the support of an agency invested in your success.
So request an SLP today and stop feeling overwhelmed and unsure about your next hire, and start feeling confident your students will get the services they deserve.
Direct hires may be hard to find, but if you're looking for in-person speech therapy for your district, Next Level Speech can help.
With an In-Person SLP from Next Level Speech, you'll;
Have an SLP that's already been qualified and vetted.
Have an SLP that will bring positive value to your school's culture.
Have all the benefits of a direct hire, with the added support and resources of a respected agency.
If in-person services are right for your program, request an SLP now, and we can help you begin your services as early as tomorrow. If we are unable to find an exceptional SLP for in-person services in your district, we guarantee to offer you the same exceptional service in a teletherapy setting.
It is simpler than ever to add an exceptional SLP to your team without being confined by location. Teletherapy services are an excellent option for:
Areas where available SLPs are scarce.
Programs that only need a minimal amount of hours covered.
Covering maternity leave or extended substitutions.
Programs that need a consistent full time SLP.
If you've never tried teletherapy in your district, making the switch is nearly seamless. Your students will get the same quality services they do with an in-person SLP. All you need to conduct teletherapy in your school is:
An adult to walk the student to and from services.
A quiet room with a reliable computer.
If you want to find out if teletherapy is a good fit for your program, request an SLP now, and we can help you begin your services as early as tomorrow.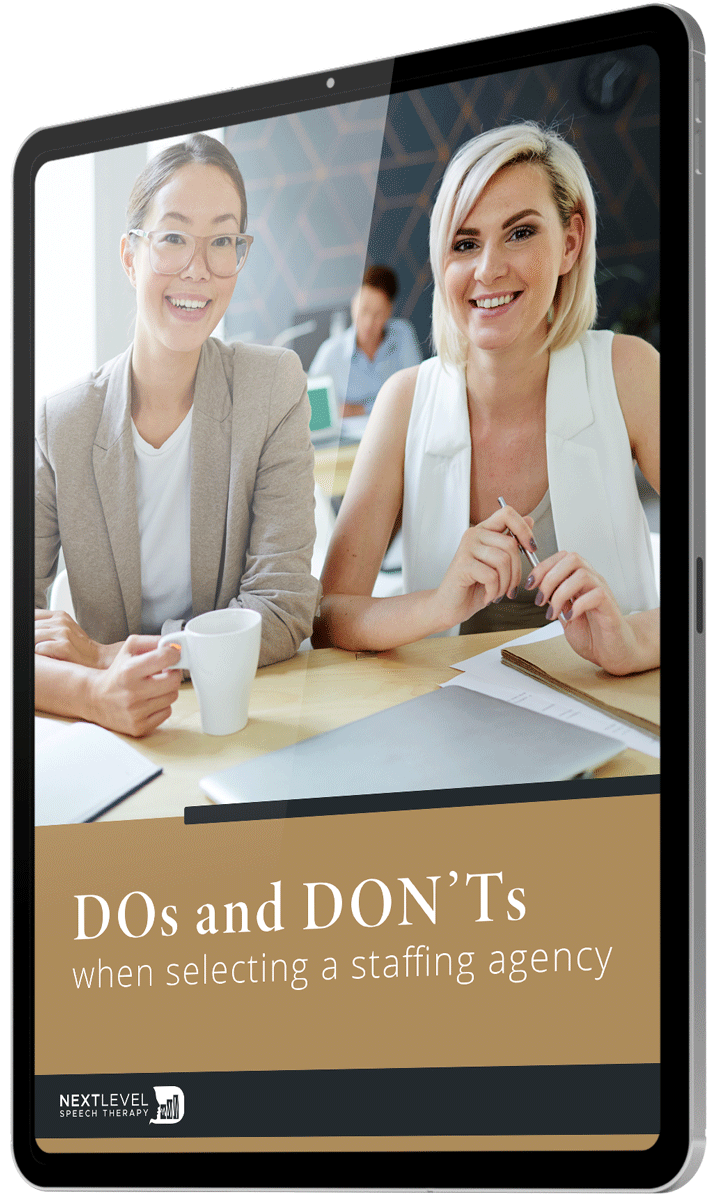 Need an SLP now? Don't panic! Download:
Top 7 questions to ask a staffing agency before you hire.
These insider questions will save you from:
Getting stuck in a contract that's not right for your program
Extra fees that blow your budget
Risk non-compliance because of a lapse in services
"*" indicates required fields